All About Momma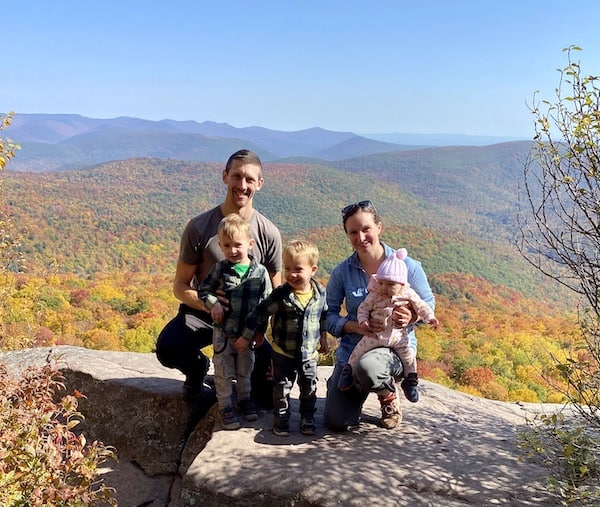 Hi, I am Kristina and happy to have you here! Below is a little bit about me and how I quit my job to become Chief Momma Adventurer.
Before kids my husband and I were active. I grew up playing sports and continued as my life progressed into corporate life. I moved to England for work in the finance industry and joined a London Ultimate Frisbee team. Through the frisbee I met my husband.
My now husband and I quit our jobs to cycle toured Asia and rode over 3,000 miles in 3 months with our luggage strapped to our bikes.  After we settled in the United States.
Running was also a big part of me and I have completed the Rome and Napa Valley Marathons.
During my transition to parenthood I wanted to ensure I kept an active lifestyle that involved my kids.
My first baby purchase was a Bob joggling stroller and since having kids have found ways to incorporate my active lifestyle into motherhood. I turned more into hiking, camping, and navigated my way through hiking backpacks, tents and baby wearing. 
I also found that you can cycle with your kids and that my young ones love it! One of their first words is always "bike".
Not only can you cycle with your toddler, but also have your child learn to ride a bike.
During COVID our childcare option went away and I shifted my focus away from corporate life to stay at home.
I am happiest while outside. That is why I find it very important to foster my own kids love for the outdoors early. No matter the weather my family can be found outside everyday!
I want to help other momma's navigate the complexities of "mommahood" and keeping your active outdoor lifestyle!
I want to inspire mommas to have more adventures with their kids, no matter the age or weather.
I want to foster outdoor loving kids!
I want to share the tidbits that I have discovered to help reduce the chaos and not let the kids' stuff overtake our household.  
Happy you are here and can't wait to explore life with you!
Sincerely,
Kristina